How Do I Book An Appointment?
We run all our surgeries by an appointment only system. Appointments can be booked in person or by telephoning the surgery 01283 217036 or 01283 226964 during our opening times 8am until 6.30 pm Monday to Friday (emergency line only from 5.30pm) or online at any time
***************From October 1st 2018, Heartwood Medical Practice based at Swadlincote Health Centre will be offering extended hours access for the residents of  South Derbyshire. If you are registered at our Surgery, there are appointments available from 18.30-20.00 Monday to Friday, 09.00-12.00 Saturday and Sunday and for an hour and a half on all Bank Holidays (hours to be announced). This is not the same service as the Out Of Hours service which will remain in place.
To take advantage of these appointments, you need to pre-book by calling us or by visiting the surgery during our normal opening hours. You must be the person attending the appointment when you book (you cannot ask someone to book on your behalf unless it is for a child or you are recorded as having permission to act on their behalf). Appointments are limited in number and are on a first come first served basis.
The appointments are based at Swadlincote Health Centre and are accessed via the side door and are located on the first floor.
This new service is in addition to our appointment system.***************
If you have already registered with our system you can book an appointment online by clicking the following link:
When requesting an appointment the GPs have aske the reception team to obtain a brief description of the reason for your appointment. This is to enable the reception team to offer you the most appropriate clinician.
Appointments can be booked up to 4 weeks in advance for most clinicians. Please try to book your appointments well in advance. If the clinician had said "See me again in 4 weeks". Dont leave it 4 weeks before you try to book the appointment.
We will do our best to keep to the appointment time, but emergencies do occur. Children should be accompanied by an adult. If you need to see the doctor urgently, please explain this when you telephone or call at the surgery.
A routine appointment is 10 minutes long and for one problem, if you have two problems or a complicated problem please book a double appointment. Each appointment is for one person only. Please book separate appointments for each person.
Most of the GPs are happy to carry out telephone consultations. Please ask  for details. If you cannot keep your appointment, please let us know in advance in order that someone else can be offered it.
Chaperone
If you wish to have a chaperone whilst being examined please ask when booking your appointment or with the GP or nurse during your appointment.
Cancelling
Cancelling/not turning up for appointments
If you can't make an appointment please cancel it as soon as you become aware that you can't make or no longer need the appointment so it can be offered to another patient.
If you don't turn up for an appointment and have not contacted us to cancel the appointment you will receive a letter from the surgery reminding you to cancel appointments in advance.  If you miss three appointments without cancelling them you will be asked to register at another surgery
Accidents and Emergencies
During surgery hours call 01283 217036
If you have an emergency, telephone the usual surgery number. Genuine emergencies will always be given an urgent appointment, although if no doctor's appointment is available you will be given an appointment with one of the practice nurses who will see your problem is dealt with appropriately.
NHS 111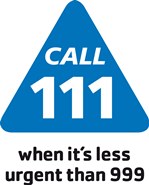 NHS 111 is the free number to call when you have an urgent healthcare need. It directs you to the right local service, first time.It is available across the whole of England making it easier for you to access urgent healthcare services when you need medical help fast.It is available 24 hours a day, 365 days a year. Calls are free from landlines and mobile phones.
When should you call NHS 111?
If you're worried about an urgent medical concern, call 111 and speak to a fully trained adviser. For less urgent health needs, contact your GP or local pharmacist.
How does NHS 111 work?
The NHS 111 service is staffed 24 hours a day, 7 days a week by a team of fully trained advisers. They will ask questions to assess your symptoms and, depending on the situation, will then:
give you self-care advice
connect you to a nurse, emergency dentist or GP
book you a face-to-face appointment
send an ambulance directly, if necessary
direct you to the local service that can help you best with your concern
If you have difficulties communicating or hearing, you can use the NHS 111 service through a textphone by calling 18001 111.
Calls are connected to the TextDirect system and the textphone will display messages to tell you what's happening.
A typetalk relay assistant will automatically join the call. They'll talk back what you've typed to the NHS 111 adviser and, in return, type back the adviser's conversation so you can read it on your textphone's display or computer.
Home Visits
Home visits are made for those patients, who, because of their condition, cannot get to the surgery. If you would like to discuss if a visit is necessary please telephone the reception staff on 01283 217036 before 10am whenever possible.
Late requests will mean the visit may not be made until the next day.
Please remember that several patients can be seen at the surgery in the time it takes to do a home visit.